Data never goes out of style
To operate a successful fashion or apparel business, you need to stay on top of your data. Data about fabrics, styles and several new collections a year. Data about sales, manufacturing, warehousing and more. And you can't do that with an aging IT system. Or multiple siloed IT systems. They won't give you meaningful insights and a 365° view into your business. But TRIMIT Fashion does. TRIMIT Fashion is a fashion business software that helps you manage and grow your business. Built on Microsoft Dynamics 365 Business Central / NAV, it works by enhancing these world-leading ERP systems with the fashion-specific capabilities you need. TRIMIT Fashion makes your day easier, more efficient and profitable because it's industry-specific business software designed exclusively for apparel and fashion businesses.
Half the Work. Double the Profits.
TRIMIT Fashion has been revolutionising the way fashion and apparel companies conduct business since 1990. It comes with the advantage of built-in, industry-specific experience. TRIMIT Fashion is primed to deliver on its promise of half the work and double the profits.
Optimizes and automates your manual processes.
Controls an unlimited number of variants of sizes and colors.
Provides a first-rate international product data management (PDM) system to help designers to create new products and manage workflow through to sample or finished products.
Grows with your company.
Enables you to collect key figures and data to support your company's growth.
Integrates seamlessly with MS Office and provides a familiar-looking interface for every level of user.
Minimizes waste and maximizes your profit by streamlining the creation and management of the bill of material (BOM).
Ensures accuracy of detail and therefore prevents production errors and waste.
Correlates your data and key figures and makes it easy to follow up on customers and brands.
Is upgradable and easy to adapt.
Provides an up-to-date inventory status.
Gives you a great overview of every process from design and production to final delivery.
Covers your entire supply chain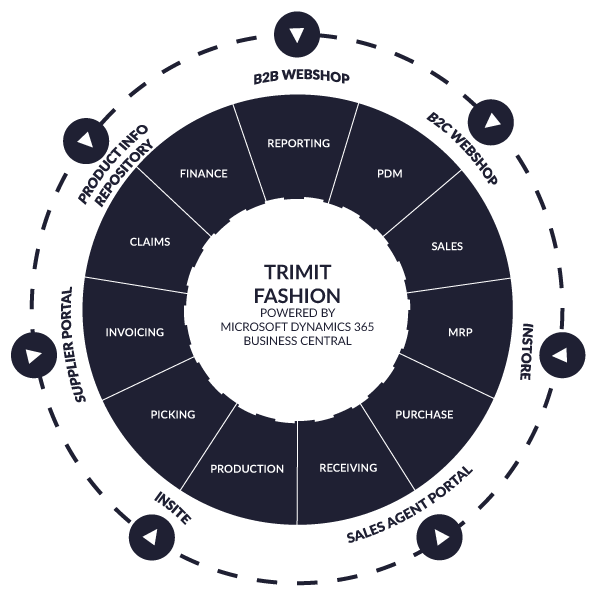 Features
Whether you produce your own fashion line, are a private label or contract manufacturer, distributor, wholesaler or retailer, TRIMIT Fashion comes with the functionality you need to support your business model. Even made-to-measure and custom orders, as well as services like logo placement and embroidery, are covered.
Implement TRIMIT Fashion today with Qixas
Qixas Group is an award-winning Microsoft Dynamics 365 Business Central Gold Partner with over 20 years of experience helping fashion, apparel and other businesses around the world implement the Microsoft Dynamics suite of products.
PROJECTS COMPLETED SUCCESSFULLY
YEARS DELIVERING SOLUTIONS
MICROSOFT-CERTIFIED EXPERTS
YEARS OF COLLECTIVE EXPERIENCE
Ready to get started with TRIMIT Fashion?
Choosing TRIMIT Fashion means choosing a Certified Microsoft Technology Partner to help with your implementation. Should that Technology Partner be Qixas? Call us today to find out. At the end of one hour, you'll know the questions you need to ask and the criteria you need to use in choosing your TRIMIT Fashion implementation partner. Naturally, we hope you'll choose us. But either way, you'll end the call with an evaluation plan.