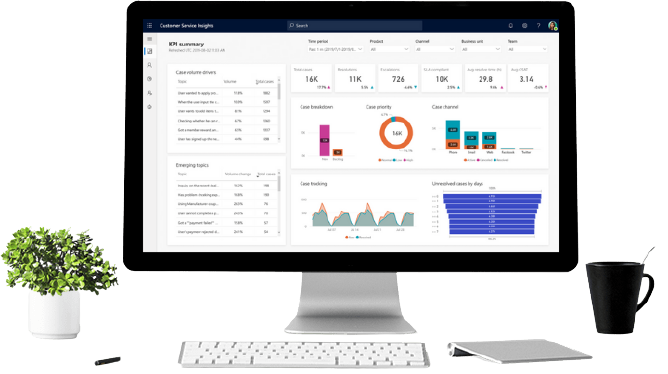 Are you outgrowing your ERP system? It's time to implement Business Central
Dynamics 365 Business Central is an all in one system that manages your ERP and CRM system in one solution. Qixas can show you how to implement Business Central the right way.
What is Microsoft Dynamics 365 Business Central?
Microsoft Dynamics 365 Business Central is a complete Dynamics NAV solution hosted in the cloud offering finance, operations, sales and customer service capabilities. It focuses on new modern, modular applications, expanded analytics and AI software. Users will be able to automate processes, secure supply chain and take advantage of advanced project management functionality. Business Central offers all the features and functionality of Dynamics NAV that can be expanded through Extensions and Apps.
Business Central Capabilities
Business Central is easily adaptable to your business model so much that organizations can add the functionality that is specific to their region and industry. With an abundance of features and apps, Business Central enables companies to manage their business, including finance, manufacturing, sales, shipping, inventory, purchasing and more.
Sales
Easy creation of sales order and invoices that records specific agreements, delivery and payment terms.
Purchasing
Purchase orders can record the cost of purchases and track accounts payable. Purchase invoices are also used to dynamically update inventory level.
Project Management
Project management capabilities include managing budgets, scheduling resources, configuring jobs, monitoring progress and much more.
Business Intelligence
Data from daily activities, sales, budget numbers and customer demand patterns can be transformed into valuable insights that can help in making strategic business decisions.
Inventory
Create item cards for inventory items that you trade in. Organize items by assigning special attributes which assists in finding items.
Fixed Assets
Manage maintenance costs, insurance policies, post fixed asset transactions, and generate reports and statistics.
Supply Planning
Detect and prioritize demand and adjust the criteria to meet planning requirements in different environments.
Warehouse Management
Create a workflow that ensures that certain internal warehouse activities are completed in order to organize and maintain business inventory.
Manufacturing
Calculate and optimize manufacturing capacity and improve production schedules. Manage demand forecasting based on items and sales forecasts.
Service Management
To ensure ongoing excellence in customer service, you can schedule service calls, track service calls and parts, provide service estimates and invoices.
Relationship Management
Manage and support your sales teams by managing all communications (emails, calls, meetings), creating marketing campaigns to identify prospects and keep track of potential opportunities.
Learn more about Business Central
Deployment
Microsoft Dynamics Business Central is available for use in the cloud and on-premise. Organizations can use their existing Dynamics GP/NAV on premise solution and connect to the cloud through Business Central. Since NAV and BC offer the same code base, existing NAV users would be able to easily upgrade to Dynamics 365 BC.
Licensing
With Dynamics 365 Business Central, you must license at least one of Dynamics 365 Business Central Essentials or Dynamics 365 Business Central Premium users. Additional access to the service functionality by other users is licensed with Dynamics 365 Business Central Team Members.
Implement Business Central Quickly and Seamlessly
We want to help guide every customer to get the most today and into the future so our customers can spend their time focused on their passions, like growing their business. Qixas Group has helped hundreds of companies through successful Microsoft Dynamics upgrades and implementations by devising a step-by-step plan that keeps them within the scope and on budget.

1
Complete an Assessment
We perform a discovery for your key business processes to determine what you have and what you desire.

2
Project Plan & Preliminary Scoping
You work closely with the Qixas team to create a project plan and preliminary scoping to determine what is the best path to get you to your ultimate goal within your budget.

3
Implementation Services
Our implementation services involve executing the project process and key deliverables, customizations, key milestone check-ins and a post implementation review.

4
User Adoption
Qixas Academy offers boot camps that help your users quickly adopt to the solution. We will provide suggestions on self-learning training available for common scenarios. An ongoing support package is arranged.