As a manufacturer or vendor in the furniture industry, you strive to meet your customers' needs by offering a large selection of products that come in multiple sizes, materials, colors, finishes and fabrics. But coordinating and keeping track of sales, purchasing of raw materials, warehousing, manufacturing and more is a challenge. You can't do that with an aging IT system. Or multiple siloed IT systems. They won't give you meaningful insights and a 365° view into your business. But with TRIMIT Furniture you can. TRIMIT Furniture is furniture-business software that helps you manage and grow your business. Built on Microsoft Dynamics 365 Business Central / NAV, it works by enhancing the world-leading ERP with furniture-specific capabilities. With TRIMIT Furniture, you get a unified platform where everyone works in the same software system. You work better together, both internally and externally.
Half the Work. Double the Profits.
Developed and refined in collaboration with furniture companies since 1990, TRIMIT Furniture gives you the tools you need to gain product and process visibility, automate and streamline processes, reduce product and business costs, facilitate collaboration and communication, improve productivity, and delight your customers.
Optimizes and automates your manual processes.
Controls an unlimited number of variants of sorts and sizes.
Gives you an overview of every process from design and production to final delivery.
Minimizes waste and maximizes profit by streamlining the creation and management of the bill of material (BOM).
Provides an up-to-date inventory status.
Grows with your company.
Ensures accuracy of detail and therefore prevents production errors and waste.
Shortens delivery times.
Correlates your data and key figures and makes it easy to follow up with customers and brands.
Integrates seamlessly with MS Office and provides a familiar looking interface for every level of user.
Enables you to collect key figures and data to support your company's growth.
Is upgradable and easy to adapt.
Covers your entire supply chain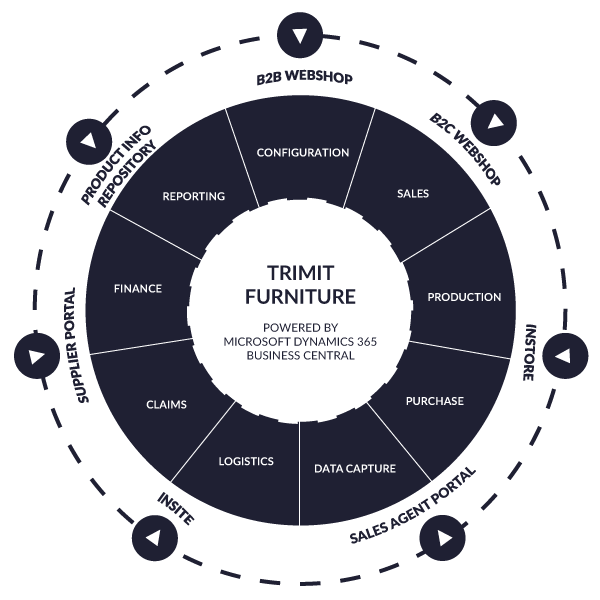 Features
TRIMIT Furniture enhances and extends the functionality of Microsoft Dynamics 365 Business Central / NAV for furniture manufacturers and vendors.
Implement TRIMIT Furniture today with Qixas
Qixas Group is an award-winning Microsoft Dynamics 365 Business Central Gold Partner with over 20 years of experience helping furniture manufacturers, vendors and other businesses around the world implement the Microsoft Dynamics suite of products.
PROJECTS COMPLETED SUCCESSFULLY
YEARS DELIVERING SOLUTIONS
MICROSOFT-CERTIFIED EXPERTS
YEARS OF COLLECTIVE EXPERIENCE
Ready to get started with TRIMIT Furniture?
Choosing TRIMIT Furniture means choosing a Certified Microsoft Technology Partner to help with your implementation. Should that Technology Partner be Qixas? Call us today to find out. At the end of one hour, you'll know the questions you need to ask and the criteria you need to use in choosing your TRIMIT Furniture implementation partner. Naturally, we hope you'll choose us. But either way, you'll end the call with an evaluation plan.