As of January 10, 2023, all versions of Dynamics NAV will be removed from mainstream support. Dynamics NAV 2013 and 2013 R2 are also without extended support. For those still using those versions of Dynamics NAV or have yet to migrate to Business Central, we have a few options for you.
Dynamics NAV Support Lifecycle
Microsoft's life cycle policy was to support each version of the solution for 10 years. The first five years are standard support and the last five are extended support. There are 2 types of support contracts. Regular support is when the product receives new features, security updates and non-security updates. In extended support you only recieve security updates.
On January 10, 2023, Microsoft Dynamics NAV 2018 will be the last version of Dynamics NAV to exit regular support and enter extended support. After that, your Dynamics NAV instance will receive security updates only until the end of the extended support period. After that, no Dynamics NAV version will receive updates.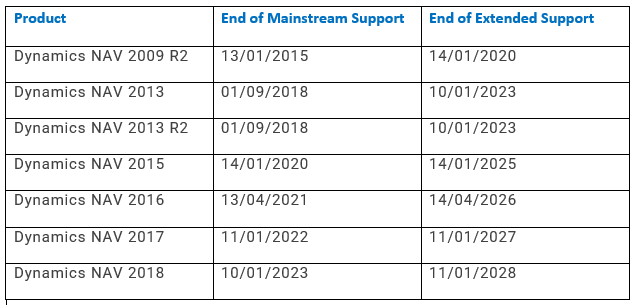 What are the options for current Dynamics NAV users?
Get support from a reliable Microsoft Dynamics partner
If your Dynamics NAV system is highly customized, changing or upgrading your ERP with basic support is very difficult. In this case, it is important to have a reliable Dynamics NAV support partner working with you to extend the life of your system.
If you choose this option, you must consider several risks:
 It is significantly more difficult to integrate with new technologies such as external third-party solutions with an old ERP such as Dynamics NAV. You'll also find it harder to leverage Power Automate, Power Apps, and Teams.
As your ERP solution ages and goes out of regular support, there is a risk that it will no longer meet current financial regulations. Auditors want to examine how you can manage your company's risks that are not supported by the software.
 Your device may no longer support your Dynamics NAV system
As your ERP ages, the chance of it crashing increases. This can lead to unexpected downtime for your business, which can affect productivity and profitability.
Upgrade your ERP to Microsoft Dynamics 365 Business Central
For Dynamics NAV users, the most obvious upgradeable product is Microsoft Dynamics 365 Business Central. Business Central is the next version of Dynamics NAV and the latest ERP from Microsoft. It is a revolutionary cloud-based management software that promises to transform your business. Benefits of moving to Business Central includes:
Seamless integration with the Microsoft stack
Moving to cloud-based software means you can access Business Central anytime, anywhere with a web client. With the
Business Central monthly fee, you can easily add or remove users using the payment model.
It also has extensive features that grow with you as your business grows.
Business Central is been guided by Microsoft's modern lifecycle practice which means that the service is consistently been updated and the product is done every six months in April and October. Which ever option you choose, Qixas is here to help guide you on your ERP journey. Contact us today to learn more about upgrading to Business Central or support options for your system.